KBS Motorcoater Holden Rocket Red (Orange) Engine Enamel 300G **SEE NOTES
$29.95
or make 4 interest-free payments of $7.49 AUD fortnightly with
More info
We Have put the KBS Motorcoater into an Aerosol Can but bare in mind this is in a Carep Aerosol Can that we make in store .

MotorCoater Engine Enamel is a genuine engine enamel in a 500ml can with KBS high solids for an easy to apply finish. Offering superb coverage and yields a self-levelling professional looking finish .

Sick of cheap aerosol engine enamels with no coverage or gloss? These engine enamels provide deep, rich pigmented colours for excellent coverage and a smooth glossy finish. Your engine will be a show stopper for the life of the motor at this DIY price!
Motor painted with MotorCoater


Features:

Fast-drying
High performance
Extremely high gloss
Perfect for brake callipers too!
MotorCoater Colour ChartHigh quality acrylic enamel
Self levelling
Brush marks flow out
Withstands temperatures up to 240°C
Matches OEM standards
Will not blister, flake, crack or peel
Oil, transmission fluid & petrol resistant
500mls is usually enough to do an entire engine
Download: MotorCoater Engine Enamel Colour Guide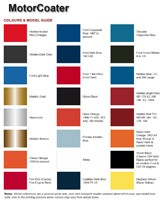 Available Colours in the Range 
Gloss Black, Chevy Orange, Aluminium, Ford Corporate Blue, Ford Red, Pontiac Blue, White, Hemi Orange, Fire Red, Ford Dark Blue, Daytona Yellow, Velvet Black, Ford Green, Cadillac Dark Blue, Chrysler Corporate Blue, Holden Red, Holden Bright Red, Holden Blue, Hemi Race Orange, Holden Rocket Red, Holden Dark Grey, Ford Light Blue, Metallic Gold, Metallic Bronze