Car-Rep Wrinkle Paint BLACK Spray Paint 340 Grams
Product code: CR01052
Car-Rep® Wrinkle creates a deep and rich texture and is ideal for adding a touch of personal styling to almost any metal surface. Made of genuine acrylic binders and high quality color pastes. Extremely high coverage. The coating is very hard and gives an excellent protection. Resist also color fading, grease, degreasers, rust chipping and tracking. Temperature resistant to 120°C. Examples of use: valve covers, metal dashboards, starters, door panels, shifters, alternators, firewalls. Plastic surfaces must first be primed with Car-Rep® plastic primer. Instructions for use: The longer spraying distance, the more wrinkle effect. Start spraying around 40cm from object and move closer if necessary. Spray thin layers and let dry for about 5 minutes before spraying a new layer. Too thick and wet paint layers will cause limited wrinkle effect.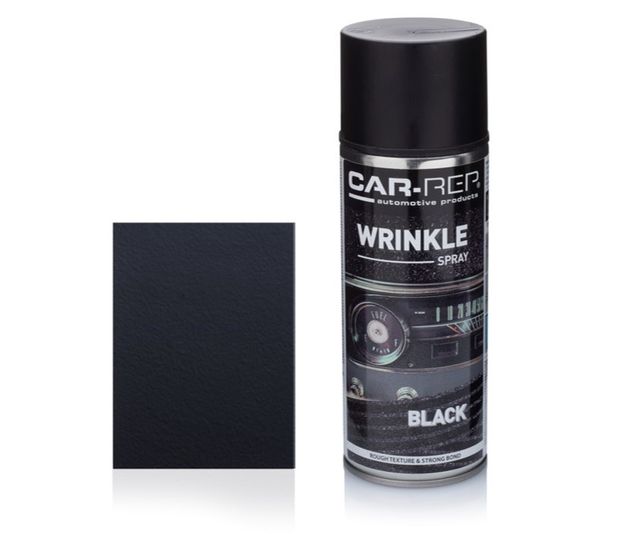 INSTRUCTIONS FOR USE: Spray first a thin layer from a distance of around 25 cm and let dry for around one minute. Then spray a wet layer to get enough adhesion to the surface. After painting the adhesive layer you can adjust the roughness of the structure simply by varying the spraying distance the further you spray (max. 60cm), the rougher the surface gets, the closer you spray (min. 20cm), the smoother the structure will be. Let always the previous layer dry around one to several minutes before it is touch-dry before applying next layer. The temperature and the spraying distance impact heavily on drying time. By spraying several layers from distance you can build more structure.
ATTENTION! If you want to build structure from a distance please note that the spray mist gets much drier. Continue spraying as instructed even if the structure you build will be quite dry and look uneven. When you are completed and satisfied with the structure, spray a final, wet layer to cover the surface, otherwise the scratch resistance of the surface will be limited.